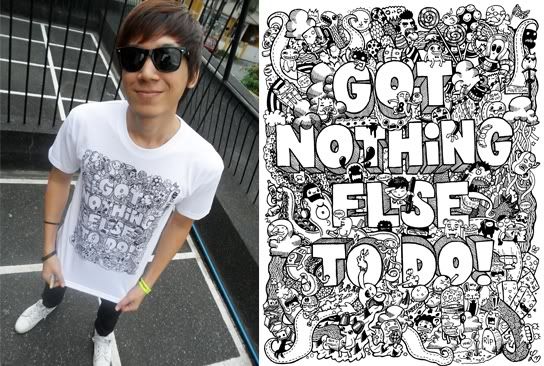 A little modeling to start of the product launch. LOL
The logo at the back is not yet final, though i hope this doesn't bother anyone if it's there or not.
Here's a product shot.
This is a close up of the DTG (direct to garment printing) which is pretty cool since it portrays the look of a marker drawing on a clothing. The process used is digitally printing which is like the traditional printing but you use a shirt instead of a paper to print something.
At the order form, you get an option of adding a custom made bag and my own personal business card.
Orders will be done only on my facebook page ---->
www.facebook.com/pages/Lei-Mel…
on this album ---->
www.facebook.com/media/set/?se…
FOR QUESTIONS, FOLLOW THIS LINK ---->
www.facebook.com/photo.php?fbi…
CHECK OUT MY CONTEST TOO!!
TO GET THE DOODLE ARTWORK FOR THE MONTH,, click the pen below.




CLICK THIS!!!!